Order Rust Release® Products
Rust Release® Super Gel
Size
Price
Shipping
Add to Cart
Half Gallon Jug (64 oz.)
$22.95
$9.95
Case (6 - Half Gallon Jugs)
$110.00
$22.95
55 Gallon Drum
FREE Drum Pump with first drum order.
A $39.95 value!
$785.00
(See Below)
Other Fluid Environmental Services, Inc. Products
Rust Release® Liquid
Size
Price
Shipping
Add to Cart
One Gallon Pail (128 oz.)
$22.95
$9.95
Case (4 - One Gallon Pails)
$78.00
$28.75
5 Gallon Pail (640 oz.)
$88.00
$28.75
55 Gallon Drum
FREE Drum Pump with first drum order.
A $39.95 value!
$695.00
(See Below)
Floor Gator®
Size
Price
Shipping
Add to Cart
10 Pound Bag
$19.95
FREE!
30 Pound Bag
$34.95
FREE!
1/2 Pallet (30 - 30 lb. Bags)
$598.50
(see below)
Full Pallet (60 - 30 lb. Bags)
$1197.00
(see below)
*Note: You do not need a PayPal account to order!
Not Comfortable Ordering Online?
Call us direct at (773) 262-8888 and we can handle your order for you. You can also fax your order to (773) 262-8905. For faxed orders, please include company billing and shipping address.
Shipping and Delivery
Orders of the 55 Gallon Drums requires truck deliveries. If you order online, you will not be charged a shipping and handling fee. Instead, we will call or email you with a freight quote and bill your card the actual amount after we confirm the delivery charge with you.
Fluid Environmental Services, Inc uses FedEx ground service for our shipments (except drums). We are located in Illinois, and this central location is within 2 to 4 shipping days of the 48 contiguous states. Orders are shipped within 24 hours of processing.
Questions or Comments



Contact me directly:
Paul Mattar, President

(773) 262-8888
paul@rustrelease.com

Distributors welcomed!
Check out the original Rust Release®!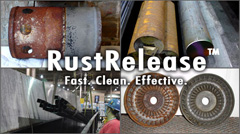 Our liquid product is perfect for large-scale rust removal operations. Just dip your metal parts into the solution and the rust is gone!

Visit the original RustRelease website
Floor Gator®!
Just cover up and sweep up!
One 30 Pound Bag can Absorb 15 Gallons of 10/30 wt Oil!
1/4 the Price of Clay Products